Minimum System Requirements:

Windows 2000; XP; Vista; 7; 8; 10

1Ghz, 256Mb RAM, 5Mb free

Compatible 32 Bits / 64 Bits
Works on multi-station
Last update 10.01.2017
Free update
Compatible with multiple accounts
In English
How to hack a GMail password?
It is the most powerful software that can hack all passwords from any GMAIL account. No matter if the password is complex or not, PASSWORD BREAKER is the software to hack any access to GMAIL without limits and time use.
Featuring a remarkable technology analysis, PASSWORD BREAKER is very easy to use. It's finally a software able to quickly decrypt passwords. You start it, follow the instructions and the GMail password appears immediately!
How does the GMAIL hacker work?
PASSWORD BREAKER once downloaded and installed, starts automatically.
Developed in partnership with the biggest IT companies, PASSWORD BREAKER needs only one email address in order to begin to decipher the password associated with that GMAIL account.
With its powerful programming algorithm, PASSWORD BREAKER will recover the password and display it on the screen. Once the password is secured, it will be possible to save it to a text file.
PASSWORD BREAKER's algorithm has the ability to decrypt passwords encrypted in MD5, in SHA, in PBKDF2 or in AES with CBC mode.
Don't lost time and hack any GMAIL password NOW.
Please click on the button.


Hack a GMail account
Hack a GMail password by using the must powerful software never designed. With PASSWORD BREAKER you can crack GMail passwords in only a few seconds then save it in a text file. Steal a GMail account to spy your family, your friends or your competitors due to the simplicity of PASSWORD BREAKER. It is not recommended to steal a GMAIL account if you do not own directly. Please respect the laws of your country.
There are various reasons for which you might need to Gmail account like you might have forgotten your password and lost your access code to your own email in that case you can use our service to get your watchword recovered. Or if you want to spy on your friends or relatives you can access their email passwords and can get live to their email IDs. You might also need to enter your address to keep a watch on your girlfriend or boyfriend or you can do the same to someone social network websites like Gmail as their identifiant can be recovered. GMail Password Breaker is a software through which you can easily access the Gmail account of family, friends, or anyone else. Through this software, you are easily able to access the email hack account of any Gmail account.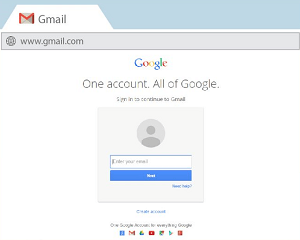 GMail login page
Our software is being used by large organizations to spy people who are involved in illegal activities and damages caused to the community in any aspect. Our software is also used by parents to check their children account activity in order to know all the emails sent or received to their inbox. We know that the messenger is an email chatting software by which we can chat with our loved ones from one end of the world to another through voice chat and video chat. Our software gives you the opportunity to cheating your friends and family members only for educational purposes.
How To Access Google Email Accounts For Free?
That tool usually does well unlocking database. Our application works also on Android phone or tablet. Once you forgot the password, you can use it to recover it as soon as possible because it is good at it's work and it has helped many users to find out their account key so that it is more skillful and technical than using other methods. It is possible and it is easy. All you need to do is to download our new and proprietary software.
We are young computer enthusiastís engineers who spend our days trying to find fails on different applications or websites in order to show the big companies the security problems they encounter and the various problems possible for their users. After several months of work we managed to set up various scripts including this one, which allows anyone to hack into a Gmail account in just a few minutes. The script is totally easy to use since you just have to enter the GMail account identifier to hack and then validate to launch our injection thanks to our script, which can retrieve the login information of your victim. Above all, we decided to share this application to show you that it was entirely possible to hijack GMail security systems and thus access the password of the users.
We work every day on updates in order to allow users to retrieve information from all Gmail accounts and users in the world. Our work will finally reach their goal.
We've seen a lot of tools that claims to hack GMail online and most of these tools are either fake or poorly developed. Our GMail hacker tool is 100% secure and anonymous. All your hack requests are processed on our servers that are hosted all over the world. No one will know that you are hacking a Gmail password. There is not fingerprint and you are completely covered by us. This is explicit. By using our GMail Password Cracker, you will be able to find the exact password of the account you want to hijack! GMail is an email service provider social network and video sharing with YouTube. It is available on iOS and Android platforms. The growing popularity of the application triggered the probability of hack software. There are a lot of tricks to hack content and application information.
However, piracy is always fun. It is always cool to look into your neighbor's GMail profile. There is genuine software for the purpose. GMail hack is the ultimate software for hacking a Gmail password. It comes with the best and easiest process to hack someone's Gmail account. There is no need to generate a password for this purpose. The hacks software directly into the host server and allows access to the projected profile in no time.
The software for hacking a GMail account allows you to view all emails that the target computer or phone sent. With the spy program you can indeed read all emails sent or received by the target GSM or computer and receive coordinates and emails from all senders and recipients. You will also be able to read the contents of each email, look at the time and date of the accused to know when each email was sent. And all mails are accessible and you can hack into an online mail account that you can access anywhere with an Internet connection. To know how to locate a lost laptop because your children use the email option of their smartphones or laptop while they should not be in contact with some people. Are you not afraid that foreigners may be able to communicate with them through their e-mail accounts? Do your teenagers use the email client account on their work phone or private computer to send personal emails? Our Gmail password hacker for hacking an email account can help you know what is happening around you by giving you access to all of their emails sent over their mobile phone or computerís mail. We need to be careful with our teenage children. There are two types of mail hackers: those who discreetly collect all our personal information, and those who do not hesitate to directly rackle our contacts, by identity theft. A practice that is not new, but continues to wreak havoc.
Often because of too easy passwords (in 2017, 90% of passwords was vulnerable), our mail accounts are regularly hacked. Hackers then plunder all personal information that may have a direct or indirect market value: identifiers (social networks, e-commerce sites, e-payment systems, etc.), contact details, banking information, confidential documents, etc. The more "courteous" do not change the password for access to the email, while others do not hesitate to prohibit you any connection, going as far as modifying the question of security (ex: what was the color of your first car?). But there are even more vicious hackers: those who send emails directly to our contacts by usurping our identity! Their goal is often to arouse our compassion through disturbing messages, in order to get money by wire transfer. It is a practice that has been going on for years, but it remains fashionable because it remains very lucrative: only prevention can help to combat this scourge. No email provider and certainly not Gmail are really more secure than another: this type of hacking is primarily possible thanks to the weakness of the passwords we use. For example the name of the dog, the date of birth of his child, a dictionary word, etc. The best security is therefore to adopt a strong password, impossible to guess, or difficult to deduce but not from a cracking software like PASS BREAKER.
Google+
Google